Looking for a great restaurant & tap house in Florence, Montana, Bitterroot Valley?
The Backyard Tap House has you covered. We've created a fun place to hang out with friends and family while enjoying a huge selection of craft beer, wine, signature cocktails, premium liquor and a full menu of fresh food options. Our inviting family / kid friendly atmosphere, gorgeous outdoor patio and selection of board games and yard games are guaranteed to keep you smiling. Join us and experience what the Bitterroot Valley has to offer.
Located in Florence, Montana and founded by native Montanans and local Florence residents Chris & Tessa Lynn, the Backyard Tap House was inspired by our favorite place to enjoy a cold beverage, our own backyard. Everything tastes better in the backyard. Cheers!
HOURS
Monday: Our day off
Tuesday–Thursday: 11–9ish
Friday–Saturday: 11-10ish
Sunday: 10–9ish (Brunch 10–1)
Kitchen closes at 9
— LOCAL MONTANA BREWERIES WE REPRESENT —
We have every brewery in the Bitterroot valley on tap. We also have a huge selection of breweries from Missoula, Montana and other local Montana beers. The Backyard Tap House is your one stop shop to taste and tour the Montana brewery scene. 
Bitterroot Valley Breweries
Bandit Brewing – Darby, MT
Bitter Root Brewing – Hamilton, MT
Blacksmith Brewing – Stevensville, MT
Higherground Brewing – Hamilton, MT
Wildwood Brewing – Stevensville, MT
Missoula, Montana Breweries
Bayern Brewing – Missoula, MT
Big Sky Brewing – Missoula, MT
Conflux Brewing – Missoula, MT
Draught Works Brewery – Missoula, MT
Great Burn Brewing – Missoula, MT
Highlander Brewing – Missoula, MT
Kettlehouse Brewing – Missoula, MT
Tamarack Brewing – Missoula, MT
Western Cider – Missoula, MT
Other Montana Breweries
Blackfoot River Brewing – Helena, MT
Cabinet Mountain Brewing – Libby, MT
Harvest Moon Brewing – Belt, MT
Jeremiah Johnson Brewing – Great Falls, MT
Katabatic Brewing – Livingston, MT
Last Chance Cider Mill – Billings, MT
Philipsburg Brewing – Philipsburg, MT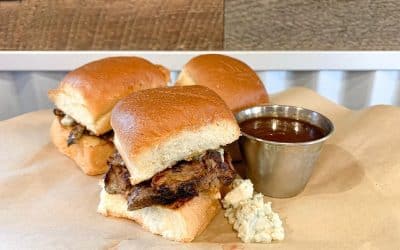 We have our new weekly food and soup specials at the Backyard Tap House restaurant in Florence, Montana for the week of 10/22-10/27. Tri-tip Sliders Three brown sugar rubbed tri-tip sliders with blue cheese crumbles on a Hawaiian roll with choice of side Weekly Soup –...
read more