BACKYARD EATS
---
Food Menu • Backyard Tap House | Florence, Montana
Enjoy Local Montana Food
Drop by our restaurant, tap house and bar in Florence, MT to enjoy local fresh food
At the Backyard Tap House we have a full menu of fresh food options using the best local and regional ingredients we can find, including grass-fed beef from Oxbow Cattle Company. You are bound to find something to fulfill your appetite with many of our options being gluten free. Our Smash Burger is pictured.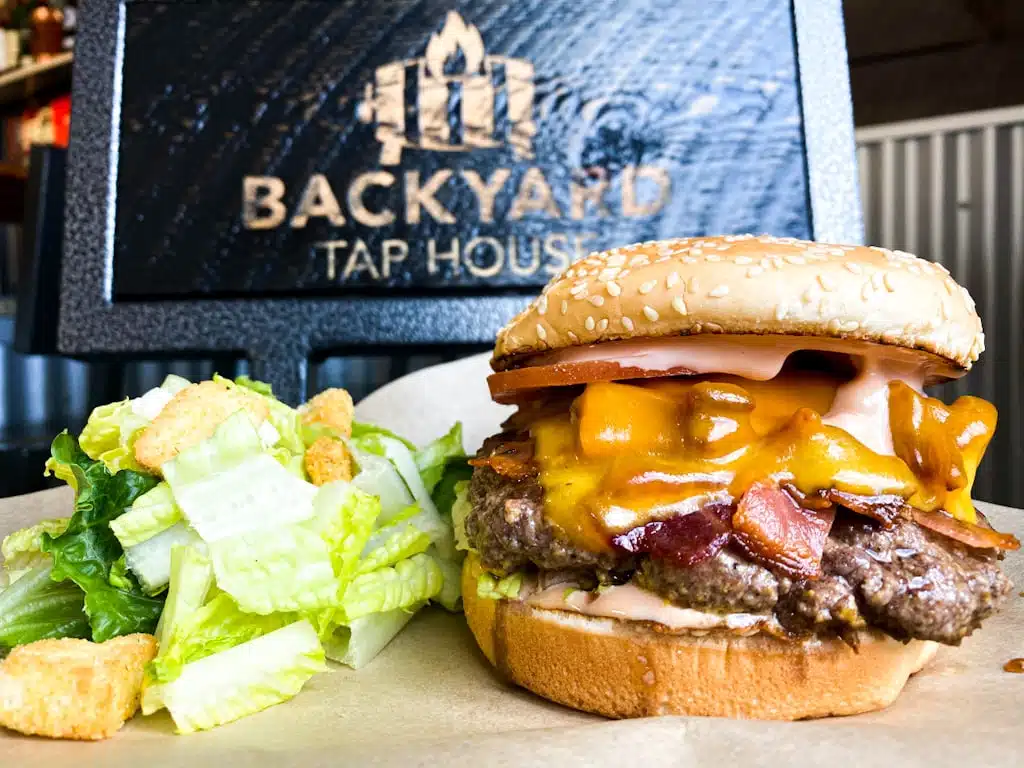 CLUCK NORRIS IS BACK
The Cluck Norris sammich is back with version 2.0 on our regular menu and better than ever!
Metcalf
Red sauce, cheese blend, artichoke hearts, mushrooms, olives, bell peppers, onions • 15
Rotator
Call us for our soup rotator
SHAREABLES
COMES OUT WITH ALL FOOD, UNLESS REQUESTED FIRST
Pint O' Bacon
Thick cut Daily's bacon, maple
dipping sauce [gluten-free] • 12
Allow thirty(ish) minutes of cook time
Nachos
Queso, shredded cheese, black beans, pico,
cilantro lime sour cream [gluten-free] • Large 12 • Small 9
Add Daily's Bacon 3 • Chicken 4 • Steak 5 • Guac 3
Sliders
Oxbow grass-fed beef, brioche
buns, choice of cheese • 10
Add Daily's bacon 2
Not Your Mama's Sprouts
Roasted honey balsamic
Brussels sprouts [gluten-free] • 8
Add Daily's bacon 2
Spuds
Roasted red potatoes,
olive oil, rosemary [gluten-free] • 7
Add Daily's bacon 2
BURGERS, SAMMICHES & MORE
COMES WITH CHOICE OF SIDE | GLUTEN-FREE BUN • ADD 2
Backyard Burger*
Oxbow grass-fed beef, egg over easy, Daily's bacon, pepper
jack cheese, onion straws, backyard sauce • 15
Smash Burger*
Oxbow grass-fed beef, crumbled Daily's bacon, cheddar cheese, pickle, lettuce, tomato, smash sauce • 13
The Jackalope*
Combined patty of Oxbow grass-fed beef, Daily's bacon & mushrooms; swiss cheese, everything bagel, jalapeños, rodeo sauce • 13
Neighborhood Burger*
Oxbow grass-fed beef, choice of cheese, lettuce,
tomato, onion • 11
Add Daily's bacon 2
VEGGIE BURGER
Black bean patty, choice of cheese, lettuce, tomato, onion • 11
Chicken Caesar Pita
Grilled chicken, romaine, provolone cheese, caesar dressing, pita • 11
Add Daily's bacon 2
BLT
Daily's bacon, lettuce, tomato, garlic
aioli on sourdough or pita • 10
CLUCK NORRIS
Grilled chicken, lettuce, red onion, guac, sriracha mayo, provolone cheese, toasted ciabatta • 13
Add Daily's Bacon 2
Florence Dip
Roast beef, grilled onion and red peppers, garlic aioli, choice of cheese, toasted ciabatta, au jus • 13
Tacos
Two corn tacos; pico, cabbage, cilantro lime sour cream [gluten-free]
Chicken 11 • Steak 12 • Veggie 10 • Add guac 2
Potato chips
Tortilla chips
House Salad
(ranch, vinaigrette, blue cheese)
Tangerine
UPGRADES
Caesar Salad 1
Not Your Mama's Sprouts 2
Spuds 2
NO, we do not have fries 🙂
BOWLS & SALADS
ADD DAILY'S BACON 3 • CHICKEN 4 • STEAK 5 • VEGGIES 2
Burrito Bowl
Brown rice, black beans, cabbage, pico, cilantro lime sour cream, guac, tortilla chips [gluten-free] • 10
Mac Bowl
Panko crusted macaroni, four cheese blend • 10
Caesar Salad*
Romaine, croutons, parmesan, caesar dressing • 9
House Salad
Mixed greens, shredded carrots, onions, raisins [gluten-free] • 7
PIZZA
GLUTEN-FREE CRUST • ADD 5
CHEESE
Red sauce, cheese blend • 10
PEPPERONI
Red sauce, cheese blend, pepperoni • 13
BITTERROOT
Red sauce, cheese blend, pepperoni, sausage, mushrooms, olives • 15
ROTATOR
See featured section above for rotator
Kids Cheese Pizza
Red sauce, cheese blend • 6
Kids Pepperoni Pizza
Red sauce, cheese blend, pepperoni • 7
Mini Burger
Oxbow grass-fed beef, cheddar cheese, choice of side • 6
Grilled Cheese
Cheddar cheese on sourdough, choice of side • 6
Kids Mac & Cheese
Macaroni, mild cheddar, choice of side • 6
Buttered Noodles
Angel hair pasta, butter sauce, choice of side • 6
Brownie & Ice Cream
Gluten-free brownie, choice of ice cream, caramel sauce [gluten-free] • 6
Big Dipper Ice Cream
Huckleberry or Vanilla [gluten-free] • 3
Dog Treats
Two house made biscuits • 2
*consuming raw or undercooked meats, poultry, seafood, shellfish or eggs may increase your risk of foodborne illness