Date: 4/18/2020
Time: 12:00pm - 8:00pm
Location:
Backyard Tap House
281 Rodeo Dr
Florence, MT 59833
Information: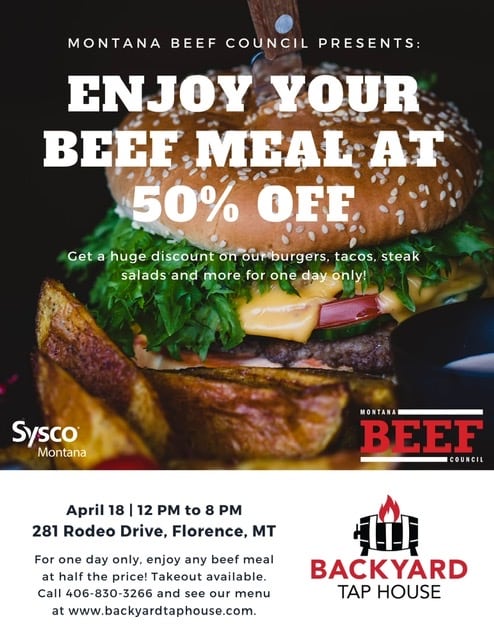 We can't say enough how appreciative we are of your support these past few weeks, and the weeks to come. We are proud to be part of such an amazing community and we want to show our gratitude.
Saturday April 18, 2020 will be a Customer Appreciation Day to celebrate just that. We will have a ton of special promotions guaranteed to make you smile.
All Growler Fills $9
Ice Cream Scoops $1
Root Beer Floats $3
Fountain Drinks $1
Hats & Stickers 20% Off
and… All Beef Meals 50% Off
Yes, you read that right, we teamed up with the Montana Beef Council to offer you 50% off ANY and ALL beef meals at the Backyard Tap House on Saturday, April 18, 2020. That's right, ALL meals with beef are half off, that's 50% off, or like… buy one get one free! Burgers, Steak Tacos, Steak Mac & Cheese, Sliders, Steak Caesar Salads… just to name a few. If it has beef, it's HALF OFF all day long!
Check our menu and order up your favorite beef meals for takeout, get a growler or two, a hat, some stickers and celebrate!
Order Online or call us at (406) 830-3266